The Equipment Balance Report presents reportable data and transaction entry based off your setup equipment in your Equipment Type List - it displays transactions made between your business and other receiving business locations; allowing you to track and identify what equipment you owe and are due.

Note: This is located by going to Reports > Modules > Equipment Balances. You will need to ensure that you have the Equipment Module enabled for this to appear, which can be done by going to Settings > TransVirtual Account > Rates and Modules.
Navigating to the above page you will see a screen like the below appear: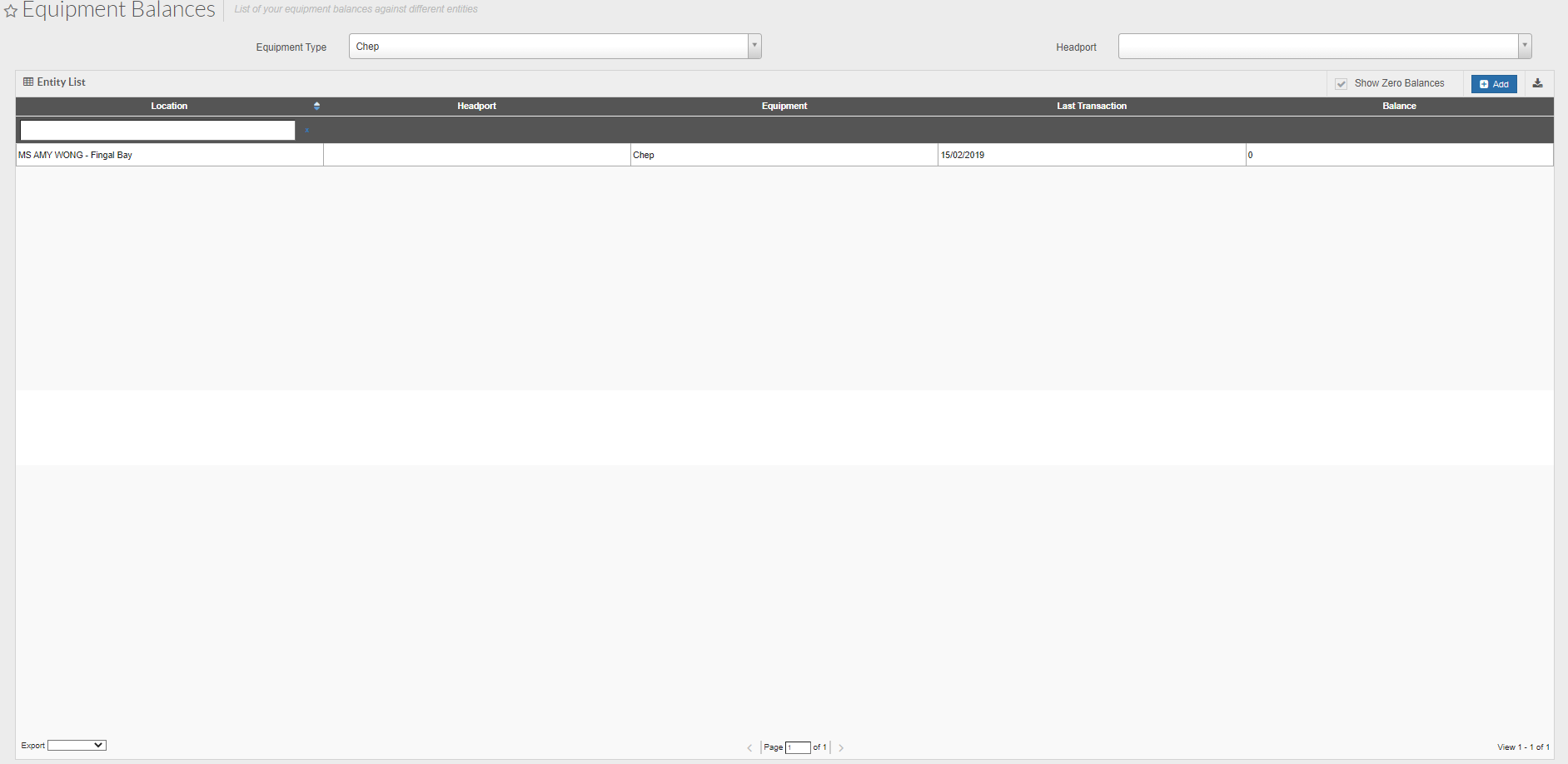 This page allows you to filter through your Equipment Types and see all transactions made using that Equipment Type.
The Location name listed is the business that the transaction was made against.
Things of note:
You can add a new equipment transaction to this list by clicking on the in the top right-hand corner of the window.


After clicking, a pop-up window will appear. Fill in the equipment transaction details and then click

Create

to lodge the transaction and save it.

You can filter this list by Equipment Type and/or Headport.
To filter by Equipment Type, click the below section located at the top of the page:

This will require that you have Equipment Types setup in your account. Click here for further information on how to set these up.

To filter by Headport, simply use the filter top-right of the page:

Filtering by Headport allows you to see transactions made in the selected Headport - doing so can return you valuable information.
This will require that you have Headports configured in your account - Click here for further information on this if required.

You can Download or Print this list by clicking on the

located top-right.

You can also export the results from the grid using the export button at the bottom-left of the page:

This function gives you the data listed from the grid above.




Double-click on an entry or row to get more in-depth information about that transaction:


Clicking this will provide a screen like the below:
Double clicking on a location and looking at their transaction history, you will see this field:

Exchange to Entity (Off) = This is the equipment you are physically transferring to a customer or receiver.