Equipment Types List
This will be the listing of equipment within your business which you wish to monitor. Normally used for Chep and Loscam pallets but can be used for other items such as Kegs or Cages as you wish.

If this is the first time you have enabled the Equipment Control Module you may need refresh your browser window for this menu option to be displayed.
Step by Step Guide

1. Add/Edit your equipment types in the
Equipment Type List
(
Settings > Lists and Zones > Equipment Type List)

2. Select
New Equipment Type
and enter the name of the equipment you wish to monitor
3. Enter a corresponding short name which is used to display this where there is limited space e.g. on mobile devices

4. Also enter an AKA if this type of equipment might have any alternate names

5. Lastly against each equipment type we can enter a data filter to use to identify when to trigger and ask a driver to select the equipment type and quantity. For example:

If you were to specify this in the data filter, the device would ask the driver/user for the quantity and equipment type for each consignment that had a pallet on it. This may be useful for equipment types such as Chep or Loscam where you want to track these types of pallets etc.

Leaving the data filter blank means this equipment type will never ask the device user for a quantity.


Note: When a device user selects an equipment type and quantity, this information is then displayed on the consignment in TransVirtual:
This is located under the details tab of a consignment.

This information is then displayed under the Equipment Balances page of Transvirtual; Reports > Modules > Equipment Balances > Search for the location name (receiver name) and you will see the last transaction the device user has entered.
Is there a way to 'Force' equipment count entry on consignment creation in the web portal?

Once your equipment types have been created, add logic to the data filter as per the above that specifies when the system should ask the driver to enter an equipment count.
For example, on a Pallet equipment type, your data filter might look like the below: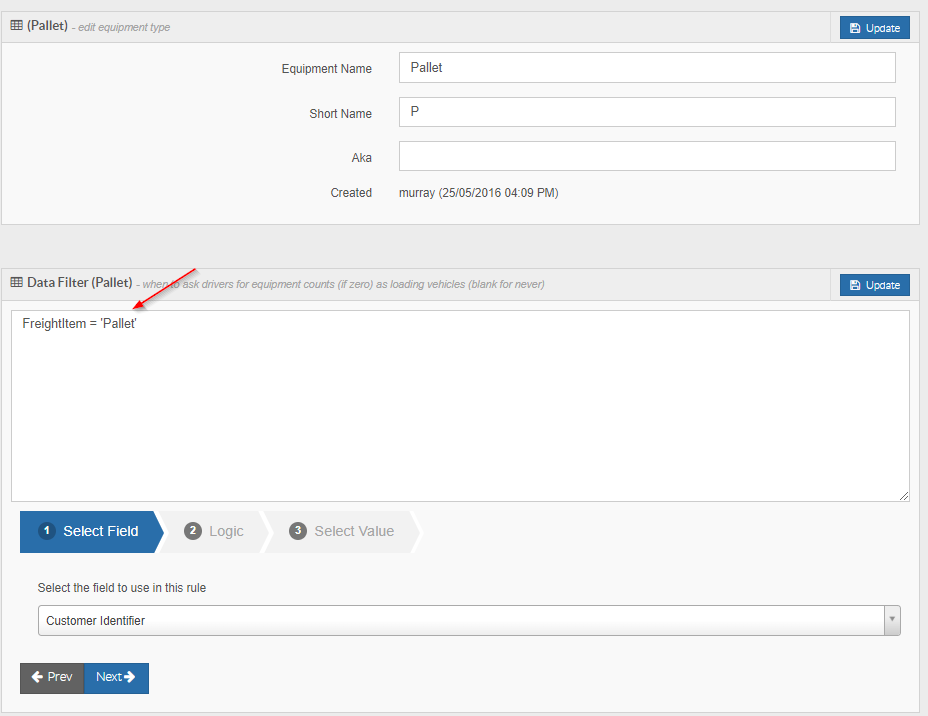 The way this is currently setup, only the mobile device users would be asked to enter an equipment count when loading a job onto their device that is for a pallet type freight item.
If you wanted to also force web portal users to enter an equipment count for any pallet type freight items, you would need to enable the below setting in global setup:

This setting can be found by going to Settings > General > Global Setup > Consignment Related Rules.
Enable the setting (this can be overridden per customer from within the consignment related rules tab of their customer card, if required).
This setting will force a user to enter an equipment count when creating a consignment in the web portal:

The user will not be able create and save the consignment
UNLESS
they have an entered an equipment count.
Related Articles