In TransVirtual there is the ability to create a zone list that outlines the areas that you do not service and the areas that you offer limited service to.
To set this up, you first need to define what suburbs, states and postcodes belong to each of these two zones.
If you wish to create this zone list via an import, your import file should look similar to the below:

As you can see, each suburb is listed against either a No Service or Limited Service zone, depending on what category it falls into.
Once your file has been created, simply save as .csv and import as per the above instructions - see Import Zone List in this article.
You can also create this zone list manually.
To do so, go to the zone list directory under Settings > Lists and Zones > Zone List Directory:

Click New Zone Listing and create the zone list - give it an applicable name.
Once your zone list name has been setup (before you enter the zone list and create the zones), you then need to assign it to the below field in the Global Setup page:


This section can be found under Settings > General > Global Setup > General Tab > Zone Directory Mapping.

Simply double-click on the dotted lines and then choose and save the zone list you have just created for this purpose.

The helper icon also gives you an indication of how it is used: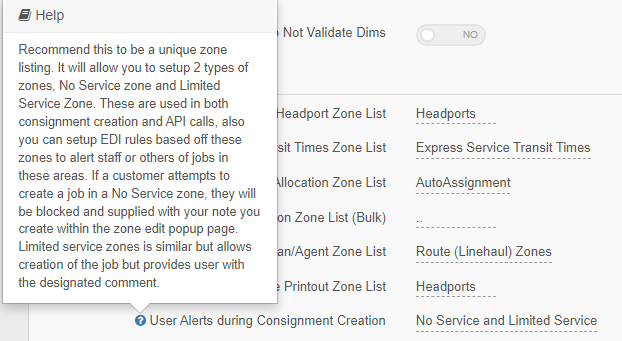 As you can see, this zone list applies to the web portal (consignment creation page within TransVirtual) and to API connote creation - if someone attempts to create a connote for a No Service area via API they will be returned the No Service message (you will enter - explained below) and the connote creation call with fail.


Note: This setup does not apply to EDI created consignments!
From here, go back to your newly created zone list and click on it from the list and click Edit Zones/Suburbs to go into the zone list.

From here, click the New Zone button as per the above.
For this particular zone list you should only create two zones at most; one called 'No Service' and one named 'Limited Service'.
You can if required, only have one of these zones if you only have a No Service area and not a Limited Service area; but the zones
MUST
be named as per the above.
Once you have created your zones, they will appear as per the below:

This zone list allows you the ability to add custom pop-up messages for when a customer tries to book in a job that fits into one of these zones.
To customize these messages, click the edit icon as per the below: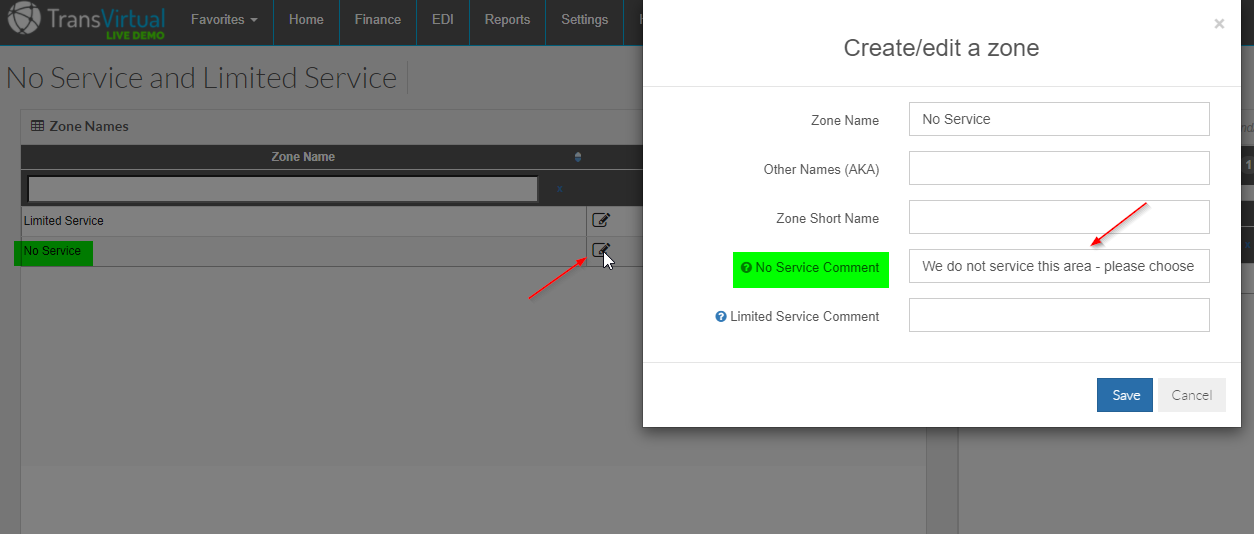 In the above, after clicking on the No Service zone edit button, enter a message in the No Service Comment field.

Ensure to save after entering the comment.

To add a comment for the Limited Service area you need to do the same thing, but this time click on the edit icon against the Limited Service zone and then only enter a message of your choosing into the Limited Service Comment field: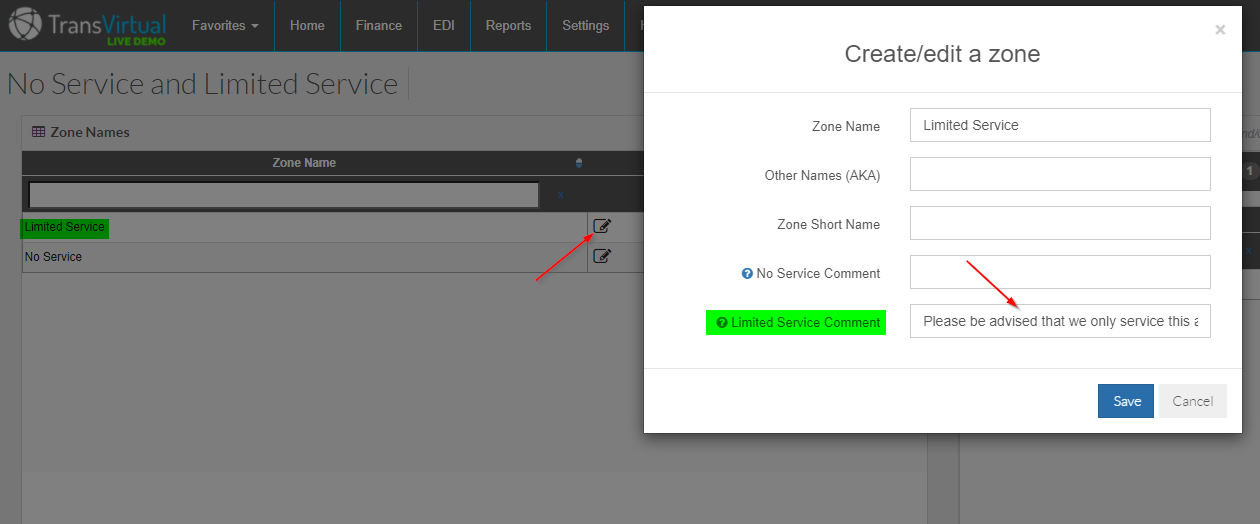 Please note: You will notice that when clicking on either edit icon that you have the ability to enter comments for both the No Service and Limited Service zones.
Please ensure that whatever zone edit button you click, you only modify the comment related to that zone; so if you click the No Service edit icon you
MUST ONLY
enter text for the No Service comment, and vice versa. The reason for this is that if you click the Limited Service edit icon and add a No Service comment, the system will treat all suburbs in the Limited Service zone as if they were part of the No Service zone, and consignments with these receiving suburbs will not be able to be created via the web portal or API.
Once you have created the zones and added the relevant pop-up comments, simply go through and add the applicable suburbs to each zone.
To do this, click on the zone on the left, then click Rules by Suburb.
From here type and search for the correct suburb:

Once the correct suburb has been found, right-click on it and then select Add Suburb to zone.

You will then notice the Current Zone has been populated:


Repeat this process until all applicable suburbs are in zones.

You would only choose to do this manually if you did not have many suburbs to enter into this zone list; typically though importing this list would be quicker and more efficient.

Once the zone list has been implemented as per the above, allow 15 minutes for it to take effect.

From now, when someone tries to book in a consignment that lies in one of these zones, they will experience similar to the below: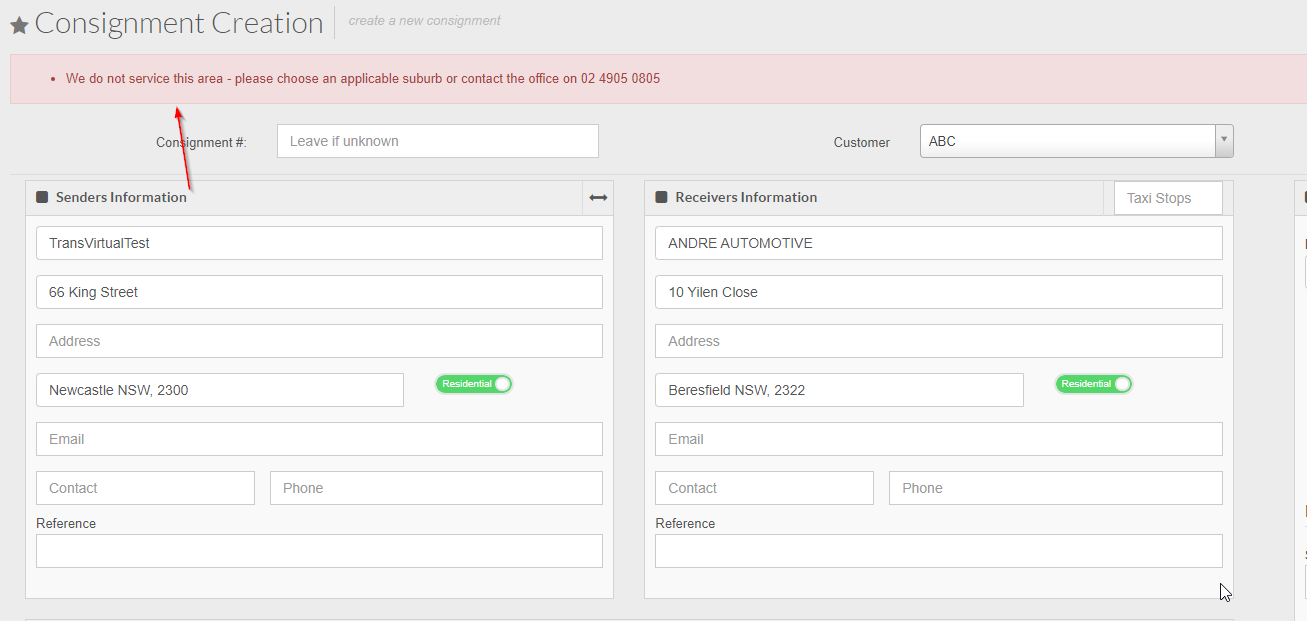 or: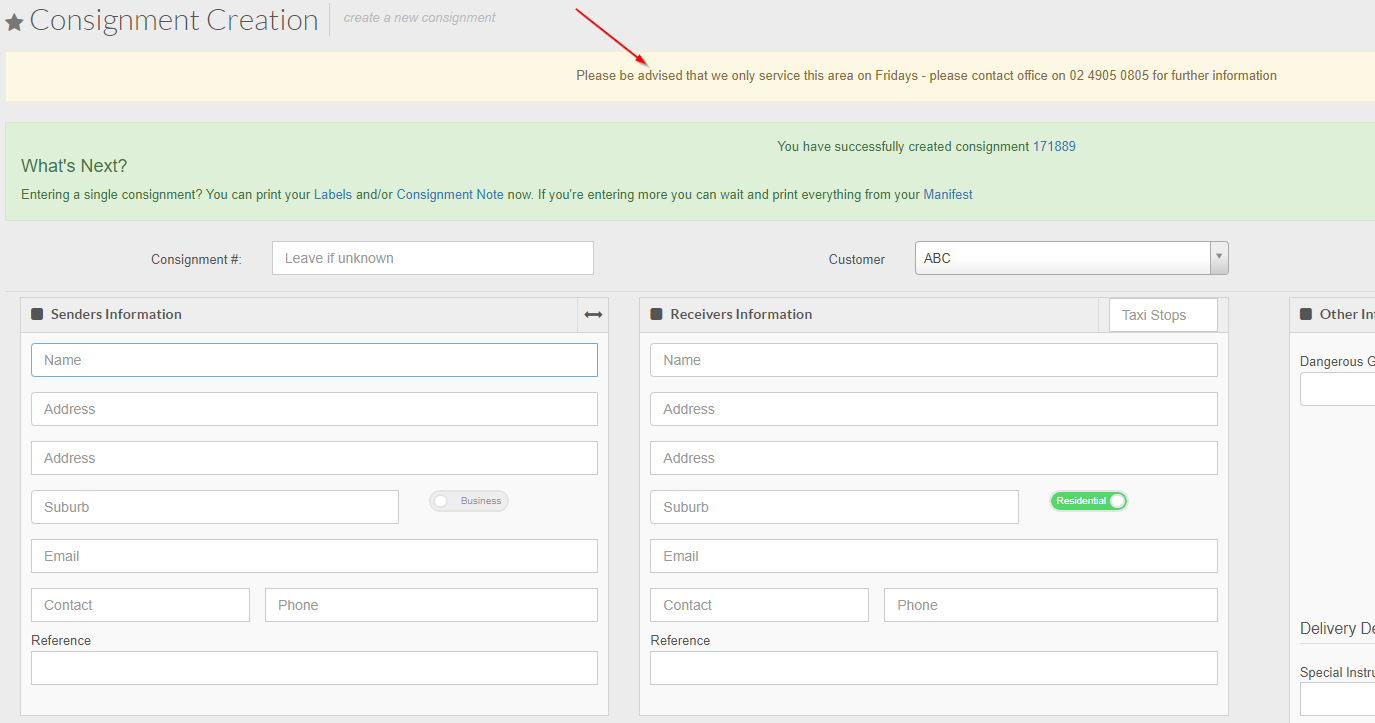 Please keep in mind that any connotes created with receiver suburbs listed against the No Service area will be blocked from creation and you will see a red error message with the text you entered against this zone. Any consignments for Limited Service areas will flag with a yellow message at the top with the text of your choice and the consignment creation will be allowed.


No Service areas = will be blocked from creation
Limited Service areas = consignment creation allowed but yellow alert message displayed