Upload PODs/Images
If required, you are able to view any POD images that have been uploaded into your account through the Search Image Batches page. This page is located under Transport > Administration > Upload PODs/Images.
This article will detail how this page can be used.

This page can be used to see the status of an image batch and gain an understanding of what images require processing.

1. Arriving at this page, you will see a page similar to the below:

2. This page works in a similar fashion to the consignment search page in that you can change the date you want to search for by using the date selector top-right of the page or y
ou can use the in-line filters to narrow down the list as shown below.

3. If needed, you can change the columns that are present in this grid by clicking on the Column Selector icon, the column selector screen will prompt, as shown below.

4. Now, select the columns you want from the ColumnsSelected field, once you have done then, click on the Update button to save the changes.
5. Now refresh the page, the selected column will reflect on screen.

5. If required, you can double-click on a batch to enter and view it as shown below.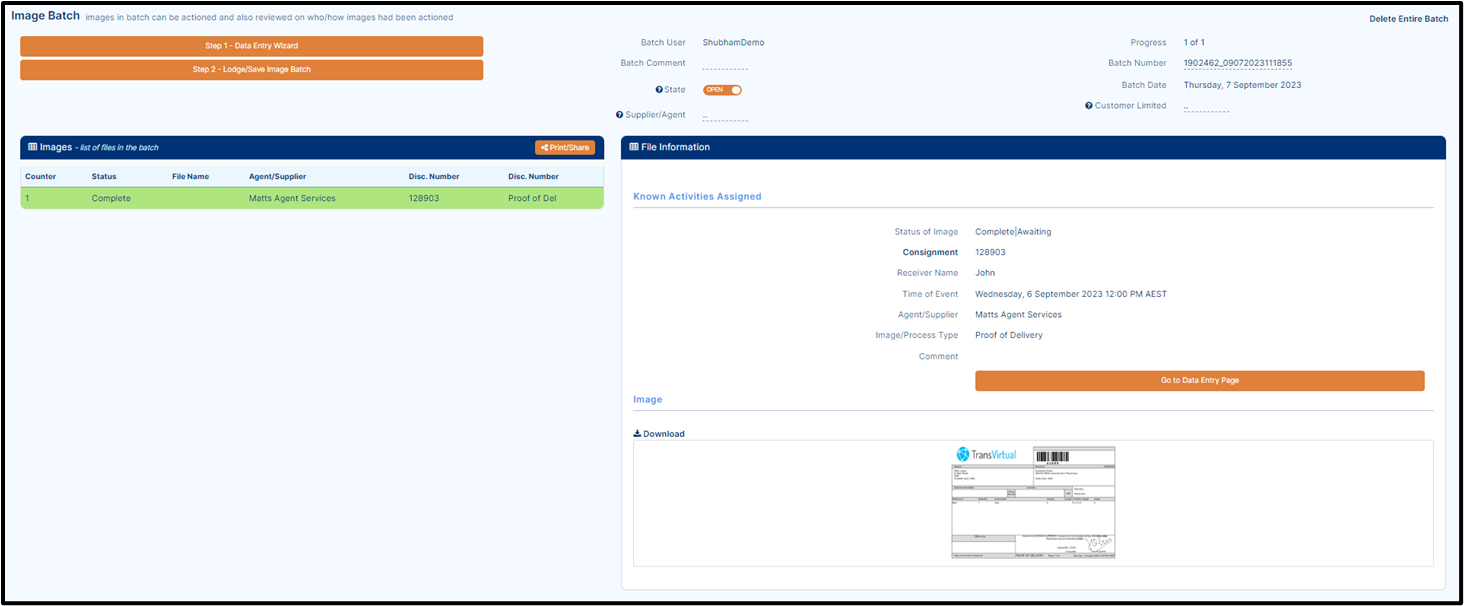 6. Any images that have been processed will flag green with a status of complete, as shown above.
7. You can also view the status of the entire batch from the search filter.

8. If any batch has been completed, then no further action is required.

9. Any batches that are not yet complete and require further processing, will display as something other than complete, which will typically be closed.
Review the Image
To review the
image upload process and save the changes, refer below steps
.
Data Entry Wizard

To edit/review the image, on Image Batch page, click on the Data Wizard Entry, the Image Process page will come on screen as shown below,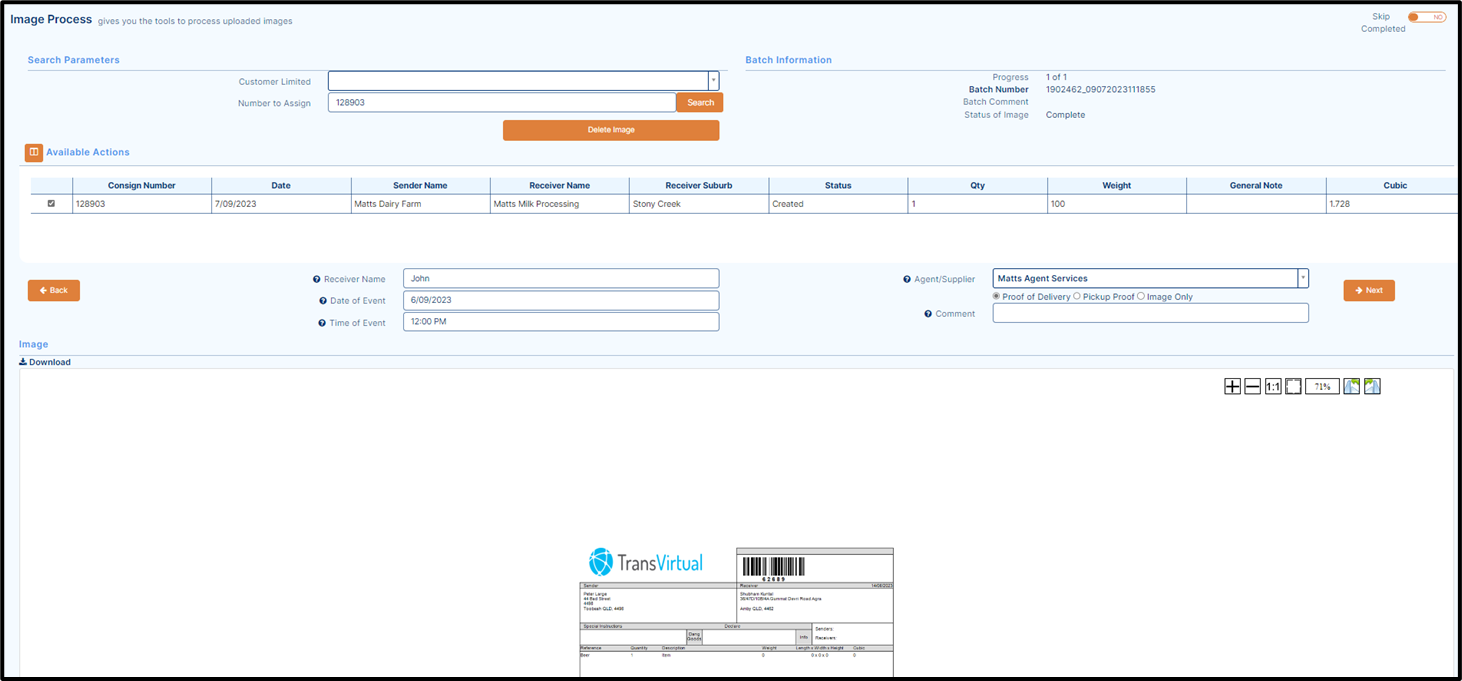 1. On image process page, you can see the Search parameters, Batch Information, Available Actions and Image sections which are describe below.

A. Search Parameters: On this section you can see and update the Customer Limited, Consignment Assign and delete image sub-sections.

B. Batch Information: On this section you can see progress, Batch number, Batch Comment and Status of the Image.
C. Available Actions: On this section you can see consign Number, Date of Creation, Sender/Receiver Name, Receiver Suburb, Status, Quantity, Weight, General note and Cubic weight.

D. Image: On this section you can see the image, can Zoom in and Zoom Out the image byu clicking on "+" or "-" icon and can download the image by clicking on the Download icon.
2. On Available Action, if required then you can update the Receiver Name, Agent/Supplier Name, Date of Event, Time of Event and Comment.

On Agent/Supplier column, you can change the type of image by clicking on the related checkbox (Proof of Delivery, Pickup Proof and Image Only).

Lodge/Save Image Batch

1. Click on the Lodge/Save image, a confirmation popup will come, here if you want to save the changes then click on Yes, I Want to as shown below.



While doing Lodge/Save Image batch, make sure that all the information is correct, once you confirmed then you cannot update the Image Process.