There may be times when either your customers or you/your staff don't receive emails sent to you by EDI Export rules setup in your account.
This article will detail how you can identify any potential issues with receiving emails as well as what can be done to resolve them.
First Step
The first step in troubleshooting issues where emails are not being received is to ensure that the EDI rules configured within your TransVirtual account have successfully exported against the relevant consignments/invoices/manifests etc.
To check this for consignments, successful EDI rules will flag as white under the communication tab within the consignment itself: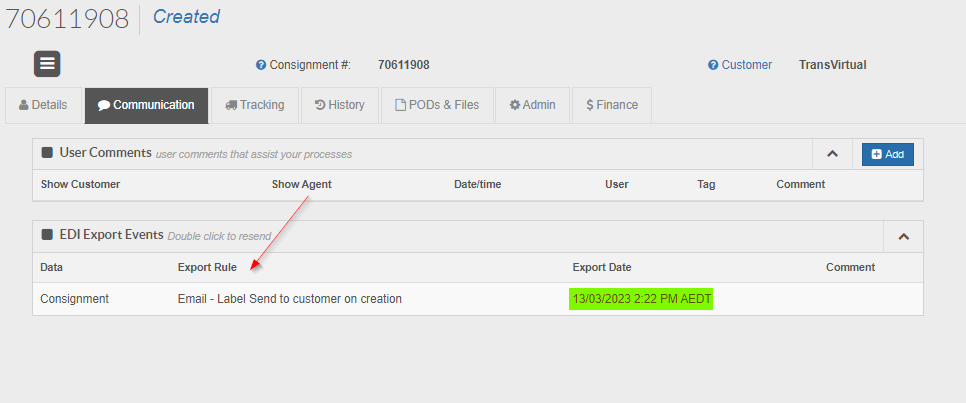 In the above, the EDI rule in question is setup to send labels via email to a customer contact associated with the consignment customer. The rule has flagged as white and listed an Export Date which means the email has been successfully sent/exported from TransVirtual.
If the EDI rule appears in red it means the export is currently still trying to send: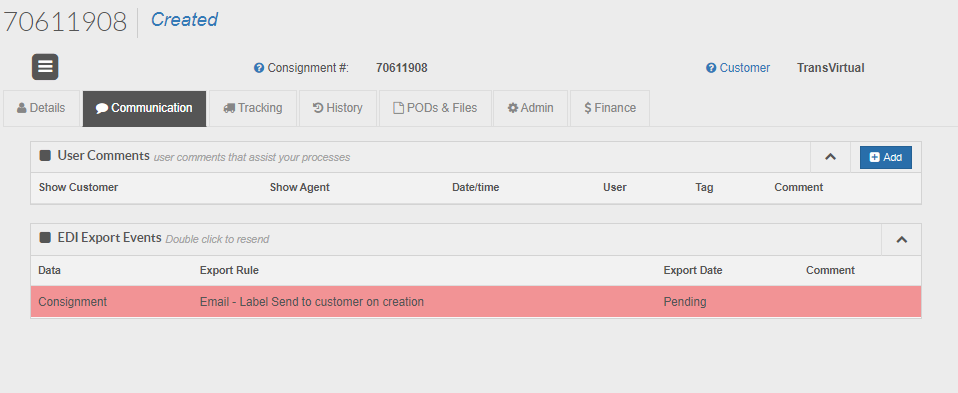 Red exports are typically newer ones that have only just applied to the connote so the system is still working on sending the email
OR
there is an issue with the send of the EDI (the EDI rule configuration may need to be reviewed) - there is also the potential that the rule is a 'timed' one where exports only occur at set times throughout the day at which they will remain pending until that point.
For invoices, successful EDI rules will flag as white under the Additional Tab within the invoice itself.

Once the EDI Export rule has been successful
If an EDI email export rule has successfully triggered against a connote or an invoice (for example) this means that TransVirtual has successfully sent the outgoing email - but it does not necessarily mean that the email was received by the end recipient in their inbox.

After successfully sending an email, if the end recipient does not see the email in their inbox, they should first check their junk/spam folder to see if the email has landed there.
Any emails coming from TransVirtual should be marked as not junk and a 'safe sender'. The ability to do this exists within each end user's mail software - they can open up the email listed as junk and mark as not being junk which means any future emails from the same sender should then start arriving in the user's inbox folder.
It is possible that other users out there using the same email platform (Office 365, Gmail, etc) have marked TransVirtual emails as being junk, which can have a flow-on effect to you or your customers and thus cause legitimate emails to be moved to a junk/spam folder instead of the intended inbox folder.
What Next?
If an EDI rule has been successful and the email is not in the end user's inbox or junk/spam folder, it may be that the end user's mail server is 'blocking' emails coming from a TransVirtual sending address.
To confirm this, the end user would need to contact their internal IT team to see if their mail server is blocking emails from this sender - and if so, the best approach would be to whitelist ('un-block') this sending email or IP address so as to allow future emails from the same sending location to pass through.
If TransVirtual emails are being blocked, what can I/my IT team do to resolve?
Other things of note
The above so far references issues where outgoing mail from TransVirtual is sent via TransVirtual's email platform.
There is the ability to setup an SMTP within your account (
Click Here
for more info) that allows outgoing email exports to send via your own mail server rather than a TransVirtual mail server.
If you are having issues where users are not receiving emails, configuring an SMTP may assist in resolving the issue.
Alternatively, if an SMTP is already configured in your account and issues still exist, you'd likely need to get your IT team and the end recipient's IT team to look into both yours and their mail server (if different) to see what the issue may be and thus what changes could be made to resolve.